| | |
| --- | --- |
| Ayrshire & Galloway Walking | AS Home |
Ayrshire, Galloway and the Islands just off the coast have a good variety of walking routes. These include mountains, scenic hills, country estates and coastal. Most of the hills/mountains have safe steady hiking routes to the top. Most also have steep testing hiking routes to the top for the more adventurous, some with 1,000 ft cliffs for rock climbing, as can be seen in the Photo Tours.
The highest hill/mountain ranges are The Merrick Range (Awful Hand) up to 2,766 ft, Corserine Range (Rhins of Kells) up to 2,671 ft, and the Cairnsmore of Casphairn Range up to 2,614 ft. The Goat Fell Range on the Isle of Arran is up to 2,866 ft.
The most difficult range is the rocky 2,270 ft Mullwarchar Range or (Dungeon Range) that runs from the south side of Loch Doon to to the east side of Loch Trool, with many high cliffs along the east side that attract rock climbers. Another testing range is the Lamachan Range on the south side of Loch Trool.
The only hill with a man made path all the way to the top is the 1,532 ft Cornish Hill. The 1,086 feet Straiton Hill has a trail all the way to the top. The 1,062ft Glessel Hill by Loch Doon Dam has a faint trail all the way to the top from the Roundhouse Cafe. The 2,766 ft Merrick has a well marked trail to the top from Loch Trool, some of that trail is man made. The 2,671 ft Corserine has a fairly well marked trail from Forest Lodge. The 2,614 ft Cairsmore of Casphairn has a good tourist trail most of the way. If you are new to Hill Walking / Mountain Hiking, these may be the best to try first. Large Map of these Routes .
Large Southern Scotland click on Mountains Map.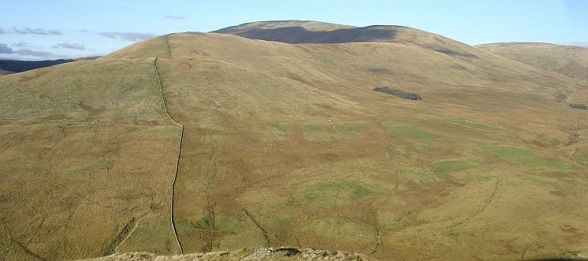 The routes below have photo tours to give a guide to the route with images and text.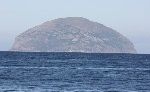 Ailsa Craig
An island bird sanctuary 10 miles off the town of Girvan. This 1,110 feet volcanic island popular with hill walkers. There are boats from Girvan that makes regular visits to the island. You get about 3 hours on the island, enough time to hike to the summit and back with time to spare, then a trip around to view the cliffs, birds and seals before returning to Girvan.
Tour . Ailsa Craig . Girvan . Map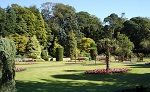 Alloway Village, Rozelle Estate & Belleisle Estate
About 4 - 6 miles, starting in the extremely scenic Alloway Village 3 miles south of Ayr. The walk then passes through Rozelle Estate for scenic ponds, mansion house with art gallery and modern art sculptures in the gardens. The walk then passes through Belleisle Estate past the golf courses and into the scenic gardens and deer park.
Photo Tour Page . Alloway . Map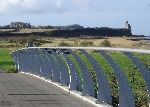 Ayr to Greenan Castle & Heads of Ayr cliffs & Dunure
About 5 - 8 miles, starting at the Low Green in Ayr centre by the beach. The walk goes south just over 2 miles to Greenan Castle at Doonfoot, following a path or along the beach. The walk can be extended from Greenan Castle to the 300 feet Heads of Ayr cliffs a further 2 miles south, and to Dunure village another 2 miles south.
Photo Tour Page . Ayr Page . Map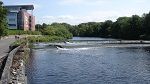 Ayr River Walk
About 2 - 3 miles out and back. This walk begins at Ayr Auld Brig in the town centre. The path follows the east side of the river into Craigie Estate from where you can view Craigie House and gardens. You can extend the walk east to the River Ayr Stepping Stones, and another 2 miles further to Auchincruive Estate.
Photo Tour Page . Ayr Page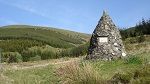 Barr Walking Routes
Woodland walks and hills up to 1,800 feet. These walks start from the village of Barr, 8 miles east of Girvan, or from a car park about half of a mile north of Barr up Changue Road. There are a number of interesting woodland walks that can be extended into the hills of up to 1,800 feet.
Tour Page . Barr Village . Map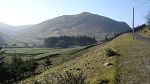 Blackcraig Hill
26 miles southeast of Ayr by New Cumnock, 2,296 feet. Blackcraig Hill has a few routes to the top from fairly easy to hard. There are another three hills of around 2,000 ft connected to Blackcraig that many people want to walk round on the same day, once up there, why not do them all. The four hills give great views as can be seen on the photo tour page.
Tour . New Cumnock . Map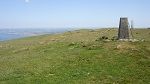 Brown Carrick Hill
5 miles south of Ayr by Dunure, 914 feet. Brown Carrick Hill is the highest hill close to Ayr. The views from the top are amazing in all directions. There are a number of routes to the top including driving most of the way via a hill road. This route also gives information on walking to Newark Hill on the south side of Ayr.
Photo Tour Page . Ayr Page . Map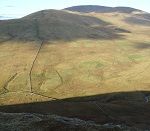 Cairnsmore of Carsphairn
23 miles southeast of Ayr by the village of Casphairn, 2,614 feet. Cairnsmore of Carsphairn is one of the six highest hills/mountains in southwest Scotland. There is a tourist trail most of the way to the top, and there are other hills in the area that the hike can be extended to.
Photo Tour Page . Carsphairn . Map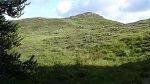 Cornish Hill
21 miles southeast of Ayr 1,532 feet. This walk starts from the Stinchar Bridge car park and follows a man made path through woodland, up to the top of Cornish Hill, and down to Cornish Loch. This may be the only hill in Ayrhsire with a man made path all the way to the top.
Photo Tour Page . Map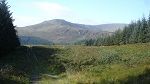 Corserine Tourist Trail
From Forest Lodge 34 miles southeast of Ayr. The 2,671 feet Corserine is on a range down the east side of Loch Doon known as the Rhinns of Kells. For the hike up the east side tourist trail, there is a car park and picnic area in The Forest Estate, at Forest Lodge, from where the hike begins.
Photo Tour Page . Map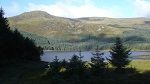 Corserine to Meikle Millyea
From Forest Lodge 34 miles southeast of Ayr, 2,671 feet. Corserine is on a range down the east side of Loch Doon known as the Rhinns of Kells. For the hike from Corserine south to Millfire, Milldown and Meikle Millyea, there is a car park and picnic area in The Forest Estate, at Forest Lodge, from where the hike begins.
Photo Tour Page . Map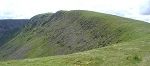 Corserine & Carlin's Cairn
From Loch Doon, 2,671 feet. Corserine and Carlin's Cairn are on a range down the east side of Loch Doon known as the Rhinns of Kells. There is a car park at the south side of the loch from where the hike begins.
Photo Tour . Dalmellington . Map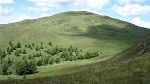 Craiglee Hill
From Loch Doon 21 miles southeast of Ay, 1,716 feet. Craiglee Hill is a popular walk from Loch Doon Castle on the banks of Loch Doon. The lower Wee Hill of Craigmulloch is normally hiked at the same time as there is a trail round the two hills. Both hills give great views over the loch.
Photo Tour . Dalmellington . Map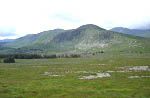 Dungeon Range North Side
From Loch Doon over a rocky range with 1,000 foot cliffs, 2,270 feet. The north end of the Dungeon Range or (Mullwarchar Range) hike starts from the south side of Loch Doon and goes over some rugged hills including, Hoodans, Mulwarchar, Dungeon, Craignary, and Craignaw. Toughest looking range in southern Scotland.
Photo Tour . Dalmellington . Map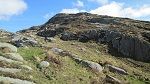 Dungeon Range South Side
From Loch Trool, 2,116 feet. The south side of the Dungeon Range hike starts from the Bruce's Stone car park at Loch Trool and goes over the 1,742ft Craiglee, 2,116ft Craignaw, 2,001ft Dungeon, and 1,952ft Craignairy. The route back on this tour is down the Loch Valley trail.
Photo Tour Page . Map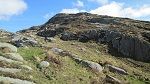 Dungeon Range Southwest Side
From Loch Trool, 2,116 feet. This is the direct route to Craignaw via the Loch Valley Trail that can be extended to the 2,001ft Dungeon, and 1,952ft Craignairy. This route to Craignaw is probably the best rugged hike in southern Scotland.
Photo Tour Page . Map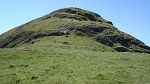 Girvan Hillwaking
South side of Girvan 974 feet. This walk can take in one hill or a number of hills over a 5 mile long range that runs from Girvan to Kennedy's Pass 5 miles south. The highest hill is Grey Hill at 974 feet. The most climbed hill with the closest and best views over Girvan is the steep sided Byne Hill at 703 feet. There is also a large memorial well worth visiting on the south side of Byne Hill.
Photo Tour . Girvan Guide . Map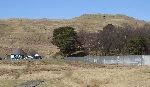 Glessel Hill
By Loch Doon Dam 1,062 feet. This is a short hike from the Roundhouse Cafe at Loch Doon Dam for great views over Loch Doon. The hike can be extended to other hills and to the impressive Ness Glen gorge via the Scottish Dark Sky Observatory.
Photo Tour Page . Map

Greeto Waterfalls Walk
On the north side of Largs. The Greeto Falls are situated above the town of Largs. There is a walking route from the town up into the hills to the falls where you can also get great views over the Cumbrae islands and the Isle of Arran.
Photo Tour Page . Largs Page . Map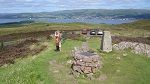 Isle of Cumbrae
Off Largs, 10 mile walk flat or 417 feet. This walk around the Isle of Cumbrae is about 10 miles. There are also trails across the island at its highest point at 417 feet. The road round the island is popular with cyclists as well with many cycle hire shops on the island. The only town is Millport with cafe's and a hotel for food and beverages.
Photo Tour Page . Cumbrae . Map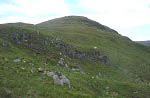 Kirriereoch & Tarfessock
By Glentrool, 28 miles southeast of Ayr. This 2,579ft hike begins from a car park on the grounds of Kirriereoch Farm and Forest Plantation. There is an easy to follow trail up the west ridge of Kirriereoch, steep descent down the north side, across to Tarfessock, then down Tarfessock west ridge back to the car park.
Photo Tour Page . Map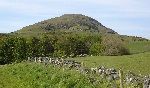 Knockdolian Hill
By Ballantrae and Colmonell, 10 miles south of Girvan, 870 feet. This is a lone hill close to the sea with great views up the Stinchar Valley and over the sea. There is a hill walk about 2 miles out from Colmonell, or a riverside walk out from Ballantrae, also about 2 miles.
Photo Tour Page . Ballantre . Map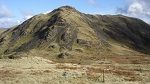 Lamachan Range
On the south side of Loch Trool 34 miles southeast of Ayr, 2,352 feet. This is a testing hike over five rugged hills with some steep sections and an adventurous ridge.
Photo Tour Page . Map
Lendalfoot Hill / Balsalloch Hill
6 miles south of Girvan, 614 feet. This is a scenic hike up one of the lower hills in Ayrshire, but one of the most rewarding. Lendalfoot Hill or its real name Balsalloch Hill, is a lone hill rising out of the sea meaning you get awesome views from close to the top, and from the top down over the shore road, village and large monument.
Photo Tour Page . Map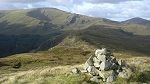 Merrick
From Loch Trool, highest mountain in southern Scotland at 2,766 feet. The Merrick hike starts from the Bruce's Stone car park at Loch Trool and goes over the 2,358 ft Benyallary. You can descend the same route, or take in other hills on the road back down.
Photo Tour Page . Map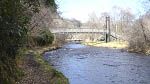 Ness Glen Trail
By Loch Doon Dam. The scenic Ness Glen Trail starts from the Roundhouse Cafe at Loch Doon Dam. The route down alongside the River Doon has to be seen to be believed. The route back up over the top of Ness Glen passes the Scottish Dark Sky Observatory, a popular visit on that route.
Photo Tour Page . Map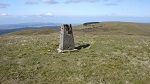 Nick of the Balloch
By the village of Barr hill walking 11 hills up to 1,800 feet. These hikes start from the Nick of the Balloch road or from the village of Barr, 8 miles east of Girvan. There are eleven hills on this range northeast of Barr from 1,500 feet up to 1,800 feet. All the hills are connected so once up on one, you can go round some others, or all, as there are only low drops between them following the ridges. There are a few steep climbs betwen some of the hills not following the ridges, especially between Haggis Hill and Glengap Hill where there is an amazing glen.
Photo Tour . Barr Village . Map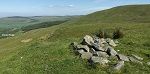 Pinbreck Hill
By the village of Barr, 2 hills up to 1,639 feet. This hike starts from the Nick of the Balloch road, 10 miles east of Girvan. There is a fairly steep route up to the top of Pinbreck Hill, and a fairly easy route. The neighbouring 1,594 ft Eldrick Hill can aslo be hiked, but is a lot tougher as it is covered in fairly deep heather.
Photo Tour . Barr Village . Map
Rhinns of Kells
North end from Carsphairn 4 or 6 hills up to 2,280 feet. This hike starts at a car park about half of a mile northwest of the village of Carsphairn, 23 miles southeast of Ayr. The hills on a loup here are the 2,162 ft Cairnsgarroch, 2,280 ft Meaul, 2,011 ft Bow, and 2,043 ft Coran of Portmark. The hike can also take in the 1,732 ft Black Craig and 1,640 ft Knockower.
Photo Tour Page . Road Map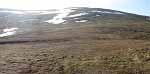 Shalloch-on-Minnoch
From Stinchar Bridge 22 miles southeast of Ayr 2,520 feet. This hike starts from the Stinchar Bridge car parks about 7 miles south of the village of Straiton. This is the easy route taking about 1 hour 30 minutes to the top. The walk can also be extended to the Merrick on the same range.
Photo Tour Page . Road Map
Shalloch-on-Minnoch
From Loch Riecawr 26 miles southeast of Ayr 2,520 feet. This hike starts in the Carrick Forest from Loch Riecawr by the Tunskeen Bothy. There is a tourist road that passes through the forest past three lochs, Loch Braden, Loch Riecawr and Loch Doon. The forest road can be entered from just east of Dalmellington via Loch Doon and from south of the scenic village of Straiton. This is the tougher route to this mountain.
Photo Tour Page . Road Map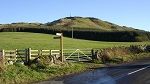 Straiton to Hunter Monument and Bennan Circuit
Scenic village 14 miles southeast of Ayr 1,086 feet. This walk starts in the scenic village of Straiton and climbs to the Hunter Monument on top of one of the highest hills overlooking the village.
Photo Tour . Straiton Website . Map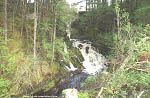 Stinchar Bridge to the Stinchar Falls
21 miles southeast of Ayr. This walk starts from the Stinchar Bridge car park and follows a man made path through woodland, for about 3 miles to the Stinchar Falls. The route is fairly level most of the way, just two short sections with inclines.
Photo Tour Page . Map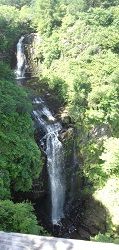 Glenashdale Falls and Giants Grave
South side of Whiting Bay on the Isle of Arran. This walk is about one and a half miles up a good woodland path to the Glenashdale Falls. The walk then goes round a high path to the Giants Grave sitting high above Whiting Bay. The path from the grave winds its way down off the hill back to the trail close to Whitng Bay.
Photo Tour . Arran Guide . Map
Goat Fell Mountain
Isle of Arran southwest Scotland 2,866 feet. Goat Fell is the highest mountain on the Isle of Arran at 2,866 feet or 874 metres. Large Image. The Isle of Arran is probably the most scenic island in Scotland. The mountain is about 2 miles north of the main town and ferry port of Brodick. Goat Fell has spectacular views over the island and Firth of Clyde to Scotland. The main tourist trail up Goat Fell normally takes between 4 & 6 hours to the top and back.
Photo Tour . Map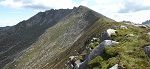 Caisteal Abhail Mountain
Isle of Arran southwest Scotland 2,818ft. Caisteal Abhail is the second highest mountain on the Isle of Arran at 2,818ft. The mountain is 9 miles north of the main town and ferry port of Brodick. The main safe trail up Caisteal Abhail, from North Glen Sannox, normally takes between 4 & 6 hours to the top and back. There is also a tough route from North Glen Sannox over the Witches Step.
Photo Tour Page . Map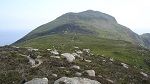 Holy Isle
Off the Isle of Arran 1,030 feet. This walk begins after a ferry trip to Arran then a small boat trip from Lamlash to the Holy Isle. The walk starts on the Island from the pier, where someone from the Buddhist retreat will welcome you to the island. The summit is about 1,030 feet.
Photo Tour Page . Map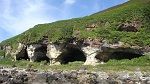 Kings Cave from the Kings Cave Car Park
West side of the Island of Arran, about a 3 mile walk. This walk to the Kings Cave is from a specially built car park about 2 miles north of Blackwaterfoot on the west side of Arran. The walk is about one and a half miles out the the cave.
Photo Tour Page . Map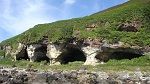 Kings Cave from Blackwaterfoot
West side of the Island of Arran, about a 4 mile walk. This walk to the Kings Cave is from the Shiskine Golf Club at Blackwaterfoot on the west side of Arran. The walk is about two miles out to the cave which is fairly level apart from a rather large hill in the middle.
Photo Tour Page . Map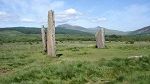 Machrie Moor Stone Circles
West side of the Isle of Arran by Machrie. This walk is from a specially built car park about 3 miles north of Blackwaterfoot, on the west side of the Isle of Arran. The walk from the car park is about one and a half miles out a good path to the largest of the stone circles.
Photo Tour Page . Map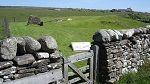 Torrylin Cairn
Southwest side of the Isle of Arran by Kilmory. This walk is from the small village of Kilmory, and follows a good woodland path for about half of a mile to the Torrylin Cairn. The cairn gives great views over the Mull of Kintyre and Ailsa Crag.
Photo Tour Page . Map