A full list of Hotels in Monkton Scotland with Images, Phone Numbers, Websites and links to Maps and Reviews.
These Hotels are popular for Prestwick Airport.
Visit Scotland star ratings - VS.
Self Classified - SC
Click on the Post Codes for Reviews, Map and Booking Offers may be available.

Premier Inn Monkton
SC 3 Star, situated 2 miles north of Prestwick Airport by Monkton at the Dutchhouse Roundabout on the A77. Premier normally list this hotel under Ayr/Prestwick Airport. Tel: 0333 777 3674.
Website . Postcode: KA9 2RJ

Manor Park Hotel
In the Village of Monkton on Kilmarnock Road. Currently Closed.
Postcode: KA9 2RJ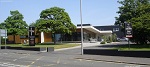 Carlton Hotel & Restaurant
SC 3 Star, 1.5 miles south of Prestwick Airport in Prestwick town on Ayr Road. Situated where Ayr and Prestwick merge. Accomodation with a nice bar and popular restaurant. Tel: 01292 476 811.
Website . Postcode: KA9 1TP
. Private Hotels (guests only)

Golf View Hotel
SC 4 Star, 1 mile southwest of Prestwick Airport on Links Road in Prestwick town, close to Prestwick Rail Station. Dating from 1870 with many original features, and views over Old Prestwick golf course. Also situated close to the beach and town centre. Tel: 01292 671 234.
Website . Postcode: KA9 1QG
North Ayr within a 5 minute drive of Prestwick Airport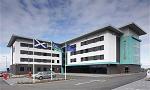 Premier Inn Ayr A77/Racecourse
SC 3 Star, situated 3 miles south of Prestwick Airport on the northeast side of Ayr town on Wheatpark Place by the Whitletts roundabout, just off the A77. Everything you'd expect, comfy beds and an onsite restaurant serving a mix of dishes. Tel: 03333 219 304.
Website . Postcode: KA8 9RT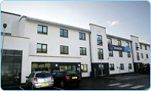 Travelodge Ayr
SC 2 Star, situated 3 miles south of Prestwick Airport on the northeast side of Ayr town on Highfield Drive by the Whitletts roundabout, just off the A77. There are no food and beverage facilities in the hotel, but the site has a Tim Hortons next door, and KFC, Subway and Pizza Hut close by. Tel: 08719 846 321.
Website . Postcode: KA8 9SH

Western House Hotel & Restaurant
SC 4 Star, 4 miles south of Prestwick Airport on the north side of Ayr town in the grounds of Ayr Racecourse. A stylishly furbished high quality hotel in a very special location, next to Scotland's top horse racing venue. Tel: 01292 294 990.
Website . Postcode: KA8 0HA